This is an archived article and the information in the article may be outdated. Please look at the time stamp on the story to see when it was last updated.
A 38-year-old woman pleaded guilty to murder charges in the shooting death of her ex-husband at a Menifee McDonald's restaurant in 2015, the Riverside County District Attorney's Office announced Thursday.
Amanda Jeanne Harwood of Big Bear was sentenced to 50 years to life in prison after pleading guilty to first-degree murder on Tuesday.
Harwood fatally shot her ex-husband on Oct. 9, 2015 while they were at the fast food restaurant for a child custody exchange, prosecutors said.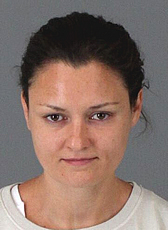 Investigators said the pair was speaking when she pulled out a handgun and started to shoot, The Press-Enterprise reported.
Her ex-husband, 39-year-old Joseph Henning of Oceanside, was pronounced dead at the scene.
David Phelps, a friend of Henning, told The Press-Enterprise that he would visit the McDonald's each Friday for supervised visits with his 7-year-old son, whose mother is Harwood. He said he prayed for the little boy and Henning's other children during a vigil a few days after the killing.
"And now they're without a dad," he told the newspaper. "My heart hurts right now."
Harwood was arrested without incident inside the restaurant, located in the 28000 block of Bradley Road in the Sun City area.
No further information was released by the DA's office.