This is an archived article and the information in the article may be outdated. Please look at the time stamp on the story to see when it was last updated.
A woman ran into a convenience store covered in blood late Monday night after she was pulled off her bike and stabbed multiple times in Simi Valley.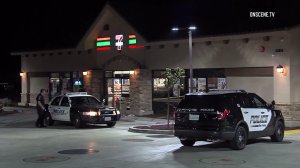 The attack occurred about 11 p.m. as the victim was riding her bike through an alley in the 1300 block of Erringer Road, the Simi Valley Police Department stated in a news release.
The victim was pulled off her bicycle by another woman who began stabbing her on the back of her neck, upper body and arms, according to the Police Department.
The victim ran into a nearby 7-Eleven covered in so much blood that a store clerk told KTLA he initially thought she had spilled a drink.
Authorities were called to the scene and the victim was taken to a nearby hospital with injuries that were not considered to be life threatening, the Police Department stated.
Police were unable to locate the attacker, but were continuing to collect evidence, the news release stated.
The store clerk said he has handed over surveillance video to the police.
The attacker was described as a woman in her mid 30s.
Anyone with information was asked to call the Police Department at 805-583-6950.