This is an archived article and the information in the article may be outdated. Please look at the time stamp on the story to see when it was last updated.
A woman is recovering on Wednesday after being attacked by a swarm of bees at her friend's home in Huntington Beach.
Mary Ann Speicher, of Ontario, was visiting her 93-year-old friend, Esther, in the area of Garfield Avenue and Seapoint Street when a large swarm of bees attacked her and became tangled in her hair Saturday morning.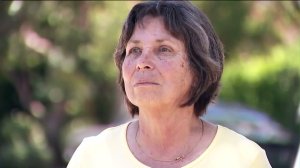 "I felt like I was holding this big, giant buzzing helmet," said Mary Ann Speicher. "It felt like it came over my head and everything. They were stinging and buzzing, and they went up my nose and my ears. It was horrible!"
Firefighters arrived on the scene a short while later and deployed a hose line with a water-foam mixture to rescue Speicher, the Huntington Beach Fire Department said in a press release.
Speicher, a self-proclaimed "former hippie and flower child" who protested during the Vietnam War, told KTLA she doesn't have the best memories of fire hoses, but was anxious for the firemen to rescue her.
"Let 'er rip! What are you waiting for," Speicher said she shouted to firefighters at the scene. "Hit me! Let me have it all!"
One firefighter was stung multiple times during the rescue but did not require medical attention, fire officials said.
Speicher was transported to a local hospital where she received treatment for her injuries. Her cockapoo dog, Max, was able to run to safety unharmed.
After an investigation Huntington Beach authorities determined that were no more bees in the area. It is unknown if it was a passing swarm or if there was a hive nearby, officials added.