This is an archived article and the information in the article may be outdated. Please look at the time stamp on the story to see when it was last updated.
A woman whose vehicle went over an embankment in a remote area of Irvine was stuck in her car for an estimated 14 hours, her husband told authorities Thursday morning.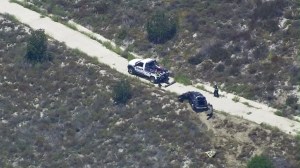 The woman was extricated from her vehicle, which had fallen some 170 yards, and taken to a hospital, according to the Orange County Fire Authority.
Her totaled car had gone over an embankment off southbound State Route 241. Aerial video from Sky5 showed the wreckage was on a dirt road below the toll road, about 2 1/2 miles south of the State Route 261.
The victim crashed some time Wednesday night and was trapped in her vehicle overnight, according to Sgt. Aaron Knarr of the California Highway Patrol's Santa Ana office.
The woman was coming home from a friend's house and appeared to have taken the wrong road, Knarr said.
She didn't wake up from the crash until 7 a.m. at which time she managed to call her husband and left a voicemail, according to Knarr.
"He didn't know where the accident took place, she couldn't tell him … she was lost," Knarr said.
After hearing the message, the husband called Anaheim police, who passed the information on to Irvine police, who in turn called CHP, CHP Officer Denise Quesada said.
"He had just gotten home from work, and he was … frantic," Knarr said.
The husband, a Riverside County Sheriff's Department deputy, told Anaheim police the signal on his wife's message had cut in and out and he heard something about Anaheim, according to Sgt. Daron Wyatt of the Anaheim Police Department.
The husband called Anaheim police at 8:23 a.m. Thursday, Wyatt said.
CHP's traffic incident page said dispatchers at 8:47 a.m. had "fourth-hand info" about a party trapped in a  vehicle.
Based on the last ping from the woman's cellphone, investigators were eventually able to find her car. Fog delayed the search, Knarr said.
The wreckage was found at 10:30 a.m., Quesada said.
The victim had been in the vehicle for 14 hours, said Fire Authority Capt. Larry Kurtz, citing the woman's husband, who said he last had contact with the victim about 10 p.m. Wednesday.
It was not clear exactly what time she crashed.
A Fire Authority tweet at 11:20 a.m. said she had been extricated. She was airlifted to Orange County Global Medical Center in Santa Ana.
Her injuries were not life-threatening, Kurtz said. She was undergoing a CT scan.
The car, a dark-colored sedan, was being towed away just before 1 p.m., aerial video from Sky5 showed.
KTLA's Chip Yost, Scott Williams and Kennedy Ryan contributed to this article.
SB241 – Pt being extricated. pic.twitter.com/1BkhGMDmbv

— OCFA PIO (@OCFA_PIO) May 12, 2016