This is an archived article and the information in the article may be outdated. Please look at the time stamp on the story to see when it was last updated.
Rescuers used a window to pull a woman to safety after a home in the Vermont Knolls neighborhood of South Los Angeles caught fire Tuesday morning.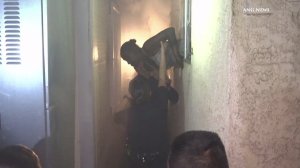 Two Los Angeles Police Department officers were patrolling the neighborhood about 1 a.m. when one of them saw smoke coming from a nearby home, Officer Christopher Carnahan said.
The officers went to the home near the intersection of South Hoover Street and West 74th Street and saw the rear of the home was on fire, Carnahan said.
Carnahan and his partner, Michaela Gastellum, were directed to an alleyway where people said a woman could be heard screaming from inside the home.
"I was trying to communicate with her," Carnahan said. "I told her to stay down, stay low, put a rag over her face."
Metal bars covered the only window the woman could use to escape, so Carnahan said he tried to use a crowbar to pry off the bars.
Firefighters soon arrived and managed to cut the metal bars off the window with a saw, Carnahan said. The officers then lowered a chair through the window for the woman to use to climb out.
"At that point, she was I'm sure very weak from smoke inhalation and she wasn't really able to communicate very well," Gastellum said.
But in the smoky room, the woman couldn't locate the chair. So, the officers used their flashlights to guide her toward it.
Eventually, the woman was able to climb up to the window, where Carnahan, Gastellum and a firefighter helped her to safety.
Family members identified the woman as Desiree Botts, who had lived in the home for more than 20 years.
Botts was treated at a local hospital for smoke inhalation and was expected to be released later in the day, according to the family.
Officer Gastellum, who first spotted the burning home, praised everyone involved in the rescue.
"It's just a team effort. We're just fortunate that she's OK and that she made it," Gastellum said.
There was no word on what may have caused the fire.