This is an archived article and the information in the article may be outdated. Please look at the time stamp on the story to see when it was last updated.
A woman was sentenced to five years in prison on Tuesday after she framed her husband's ex-fiancee for stalking and attempted rape, the Orange County District Attorney's Office said.
Angela Maria Diaz, 32, created an elaborate scheme — one in which she faked cervical cancer and a pregnancy by forging doctor's notes, pretended to be an attorney and posted "rape fantasy" ads online — all to frame the ex-fiancee of her husband, the DA's office said.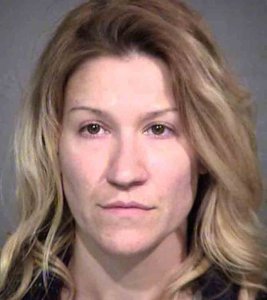 She pleaded guilty to multiple felony and misdemeanor charges before receiving a five-year prison sentence.
Diaz tried to make it appear as if Michelle Suzanne Hadley, the ex-fiancee of her husband, was harassing her and even posting "rape fantasy" ads online that would solicit men to go to Diaz's home and try acting out the forcible sex acts, prosecutors said.
All of it resulted in two arrests for Hadley and nearly three months spent in jail, before she was eventually released and proven innocent through investigations, prosecutors said.  Hadley could have faced up to life in prison if she had been convicted.
Diaz married to her husband, described only as "John Doe" by authorities, in February 2016.  Hadley previously had a romantic relationship with the same man —from August 2013 to August 2015.
Not too long after marrying her husband, Diaz began in the summer of 2016 making false accusations against Hadley, prosecutors said.
On June 1 of that year, Diaz falsely reported harassing messages — which she claimed were from Hadley — to the Anaheim Police Department, prosecutors said. She wrote the messages to herself and tried to make it appear as if Hadley wrote them, and the false reports and calls to police went on for over a month.
She said Hadley threatened her life and even the life of her unborn child, though she wasn't actually pregnant, prosecutors said. Diaz ultimately managed to get a restraining order against the woman she was falsely accusing.
Throughout June 2016, Diaz took her actions a step further — she posted ads online for "rape fantasies" while posing as Hadley, prosecutors said.
By routing emails to herself and using different servers to avoid detection of her IP address, Diaz actually made it appear as if Hadley was posting the ads about her, prosecutors said.
When replying to men online about the ads, Diaz sent photos of herself and details about her personal routine to make it look like she was the one being targeted, prosecutors said.
She told men she wanted them to have forcible sex with her, even if she screamed or resisted, prosecutors said, and at least two men planning to take part in these "rape fantasies" were intercepted by law enforcement.
Meanwhile, Diaz told Anaheim police that Hadley was stalking her and insisted didn't know anything about the online ads, prosecutors said.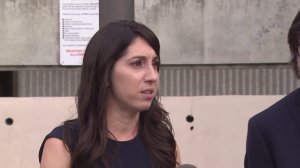 Then, on June 24, 2016, Diaz called 911 and said a man entered her garage and attempted to rape her — an attempt to validate her claims Hadley was posting the ads basically setting her up to be raped, prosecutors said.
That same day, Hadley was arrested by Anaheim police and later released from custody on $100,000 bail.
When Hadley was arrested, Diaz said the threatening emails suddenly stopped coming in, prosecutors said.
But once Hadley was released, Diaz started sending herself threatening emails again and responding to the online ads soliciting rape, all while "pretending to be the victim," the DA's office said.
Violent language and photos were included in the emails to make them appear as legitimate threats, prosecutors said. And weeks later, Hadley was again arrested on July 14, 2016, and held on $1 million bail.
Hadley remained in custody for nearly three months, until Oct. 7, 2016, when investigators gathered enough information allowing for her release.
Diaz was finally arrested on Jan. 6 of this year by the Phoenix Police Department in Arizona.
"If not for the hard work of law enforcement continuing to investigate and seek the truth in this case, Ms. Hadley could have continued to face life in prison," Orange County District Attorney Tony Rackauckas said in a statement.
"Even while pleading guilty, Diaz showed no remorse, compassion or empathy for the victim," he said, adding that he hopes the conviction can help Hadley "move forward in her life."
Through a victim impact statement, Hadley's attorney reminded the court of how Diaz's actions led to Hadley spending 90 days in custody. The jail time damaged her credit, and her job and apartment applications "still prompt questions about crimes she did not commit," said the attorney, Michael Guisti, according to the DA's office.
The experience left Hadley with nightmares and post-traumatic stress disorder, the DA's office said.
In court, a deputy DA read a statement from Diaz — given before she was identified as the true suspect — in which she said Hadley should register as a sex offender and that she ruined her life.
As the statement was read, Diaz laughed, prosecutors said.
Prosecutors said Diaz also impersonated two of her husband's ex-girlfriends over email.
Along with two counts of kidnapping and false imprisonment by menace, fraud or deceit, Diaz also pleaded guilty to two counts of forgery and possession of a forged check worth over $950 – for adding $2,000 to a payment from her employer in April 2016 and forging a paycheck from the County of Orange later that year, in September.
Diaz also pleaded guilty to one count of felony perjury and grand theft, and misdemeanor charges of falsely reporting a crime to police and 21 counts of falsely reporting a crime to a peace officer.