This is an archived article and the information in the article may be outdated. Please look at the time stamp on the story to see when it was last updated.
A 50-year-old woman was sentenced to 25 years to life in state prison after pleading no contest to charges stemming from an elaborate scheme that left a baby girl in Long Beach dead and some of her family members badly injured, prosecutors said Friday.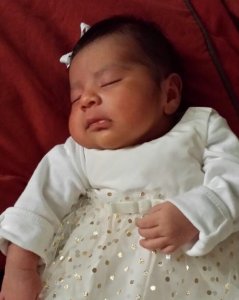 Giseleangelique Rene D'Milian had been charged with one count of first-degree murder in the death of Eliza De La Cruz and two counts of attempted murder of the child's father and uncle, the Los Angeles County District Attorney's Office said in a news release.
D'Milian had allegedly told her boyfriend who was out of the country she was pregnant when she wasn't, then hatched a plan to kidnap two children to fool into believing she had given birth to twins while he was away, investigators previously told KTLA.
Both she and 32-year-old Anthony Ray McCall were charged with murdering 3-week-old Eliza after she was abducted from her northern Long Beach home on Jan. 3, 2015.
Her body was found the next day in a dumpster at a strip mall in San Diego County's Imperial Beach. Investigators never disclosed why they believe Eliza ended up dead amid the kidnapping plot.
Surveillance video obtained by Long Beach police allegedly shows someone following the baby and her family on Jan. 3 ahead of the violent kidnapping.
D'Milian enlisted McCall, an Oceanside resident, to storm the family's home, officials said. Upon entering, McCall allegedly shot Eliza's father and uncle who were attempting to flee with her.
Five weeks after that incident, McCall is accused of using a baseball bat to beat a young mother whom D'Milian knew in an attempt to abduct the woman's 4-month-old son.
McCall fled the room, however, after hotel employees responded, and the baby was unharmed.
McCall is accused of seven counts in connection with the kidnapping plot: one count each of murder and kidnapping, four counts of attempted murder and one count of attempted kidnapping. His trial is expected to begin on Feb. 13.
A third person, 46-year-old Todd Damon Boudreaux, was also charged in the case and in October 2016 pleaded guilty to being an accessory after the fact. Boudreaux is expected to be sentenced on Jan. 10.