This is an archived article and the information in the article may be outdated. Please look at the time stamp on the story to see when it was last updated.
VAN NUYS, Calif. (KTLA) — A woman was hospitalized in critical condition and a suspect was arrested after she was set on fire while sleeping on a bus bench in Van Nuys.
It happened around 1 a.m. near the corner of Van Nuys Boulevard and Sherman Way.
The victim, a 67-year-old homeless woman who frequented the area, was sleeping on a bus bench outside a Walgreens store.
Police have not released her name, but locals identified her as Violent Parker.
According to witnesses, Dennis Petillo, 24, went into the Walgreens and bought some rubbing alcohol, then walked out and doused the woman.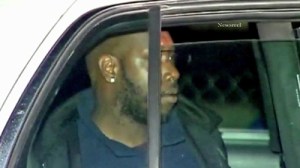 "He went inside to the Walgreens store, bought alcohol and then he just poured it all over the old lady," said witness Erickson Ipina.
"Then he threw the match on her and started running," he recalled.
Ipina chased after the suspect and called 911 from his cell phone.
Petillo was arrested on suspicion of attempted murder. He is no stranger to the law, court records show.
Since 2008, he has pleaded guilty twice to charges related to vehicle theft. The second time, he was sentenced to two years in prison.