This is an archived article and the information in the article may be outdated. Please look at the time stamp on the story to see when it was last updated.
The family of a teenager shot and killed in Santa Ana last week pleaded for help Tuesday solving the killing as police said she was not the intended target.
"I lost my baby. Someone left her there to die in the street like an animal," said Eva Barrios, the mother of 18-year-old Victoria Barrios.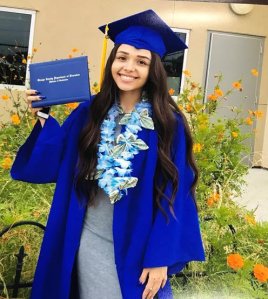 A $50,000 reward is being offered for information leading to an arrest and conviction in the fatal shooting, which authorities believe was gang-related.
But Barrios was not a gang member, according to Santa Ana Police Department spokesman Anthony Bertagna.
The gunman shouted something just before opening fire last Thursday night that has led police to believe the shooting has gang ties, authorities said. The shooter allegedly shot from a vehicle.
Barrios was pronounced dead at the scene in the 500 block of East Pine Street after officers were called to the area just before midnight.
A 17-year-old boy also left wounded was previously described by police as being in unknown condition.
The slain teen's mother said she had aspirations to go into law enforcement and pleaded for help finding the person responsible for her daughter's "senseless" killing.
"Please help us," she said through tears.
Last week, one witness described a series of at least 5 shots separated by pauses.
"Every shot was paced," said Luis Almazan, who lives nearby. "It was one shot. Pause. One shot. Pause. And so on for five shots and from there, it was utter silence."
No description was given of the shooter last week as police continued to investigate.
Anyone with information can reach Santa Ana police at 714-245-8665 and anonymous tips can be forward to Orange County Crime Stoppers by visiting occrimestoppers.org.
KTLA's Jennifer Thang and Chip Yost contributed to this report.