This is an archived article and the information in the article may be outdated. Please look at the time stamp on the story to see when it was last updated.
A woman who was allegedly threatening people with a knife was killed during an officer-involved shooting in Long Beach, police said.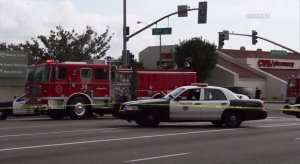 At about 11:14 a.m. Sunday officers responded to the area of 7th Street and Bellflower Boulevard after receiving reports of a woman with a knife, Long Beach police said in a statement.
Officers responded to the scene and encountered the woman who continued to swing the knife at pedestrians and eventually at police.
Officers tried to deescalate the situation and used a stun gun to try and subdue the woman, police said in a news release Sunday night. 
Authorities said that did not work and the woman suddenly stopped, "turned and advanced on them with the knife," and the officer-involved shooting occurred.
The woman was hit by gunfire and paramedics were called to the scene and rendered aid to the woman. She later died at a hospital, officials said. She has not been identified.
No officers were injured during the shooting.
Authorities recovered a knife at the scene of the shooting.
An investigation into the incident was ongoing.
KTLA's Steve Bien contributed to this story.