This is an archived article and the information in the article may be outdated. Please look at the time stamp on the story to see when it was last updated.
Authorities are searching for whoever shot and killed a woman as she was leaving work in the City of Industry late Monday night.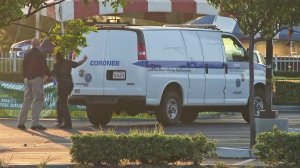 The shooting was reported just before 10:30 p.m. in the 17600 block of Castleton Street, according to a news release from the Los Angeles County Sheriff's Department.
The victim, identified only as a woman in her 20s, worked at the Golden Corral restaurant and had just finished her shift when she was confronted in the parking lot and shot multiple times, Detective Marc Boisvert said.
The woman was pronounced dead at the scene, the news release stated.
Witnesses told authorities the shooting may have been part of a domestic dispute based on statements the gunman made.
The shooter fled westbound through the parking lot then left the scene in either a van or SUV, Boisvert said.
Investigators did not have a description of the gunman, but planned to check surveillance video from the nearby businesses in hopes of identifying the the shooter or vehicle.
Anyone with information was asked to call the Sheriff's Department at 323-890-5500. Those who wish to remain anonymous can call Crime Stoppers at 800-222-TIPS (8477).