This is an archived article and the information in the article may be outdated. Please look at the time stamp on the story to see when it was last updated.
Police on Monday surrounded an apartment building and conducted a search in the San Fernando Valley neighborhood of Valley Glen after a woman was shot in the head and wounded, but officers were unable to find the gunman, authorities said.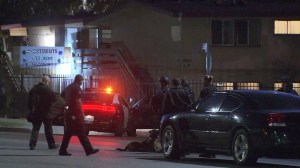 Officers responded about 2:45 a.m. to a call of shots fired in the 13100 block of Vanowen Street (map), where they found a female victim suffering from a gunshot wound, said Capt. Stephen Carmona of the Los Angeles Police Department.
The woman, who had been shot with a shotgun, was transported to a hospital where she was listed in stable condition, police said.
Soon after a perimeter was set up, Carmona said the shooter was "contained" at the location, and K-9 units were at the scene. He said police were not in contact with the gunman.
Asked about reports that the suspect was the victim's boyfriend, Carmona said it was too early in the investigation to know.
Vanowen was closed between Ethel Avenue and Coldwater Canyon Avenue during the search.
Police units were seen leaving the area shortly after 7 a.m.
The site of the shooting remained a crime scene, an LAPD spokesperson said.