This is an archived article and the information in the article may be outdated. Please look at the time stamp on the story to see when it was last updated.
Police were searching Thursday for a woman involved in a hit-and-run crash in Santa Ana that left a young man hospitalized with devastating injuries.
Chris Chavez was crossing Bristol Street near Central Avenue early Wednesday morning when he was struck by a black, four-door BMW that ran a red light, according to the Santa Ana Police Department.
A witness took a picture of the driver when she got out of her car after the crash, police Cpl. Anthony Bertagna said.
Once the woman saw Chavez lying in the street, she got back into her car and drove away, Bertagna said.
"For her to do that and just leave him there is heartbreaking to me because he didn't do anything to deserve it," the victim's sister Rachel Chavez said.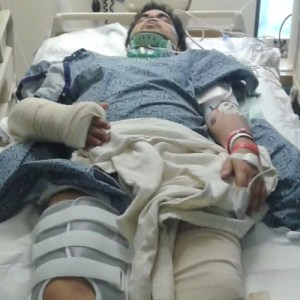 The 26-year-old activities supervisor at Saddleback High School sustained life-threatening head injuries in the crash, his father told KTLA.
According to Ralph Chavez, his son has suffered five strokes since the crash and has a 50/50 chance of surviving.
"We'll know in the next 24 hours ... It's hard," Ralph Chavez said.
If he does pull through, Rachel Chavez said her brother would face a difficult recovery.
"He will most likely be blind and lose most of his motor skills ... even if he does live it's going to be a struggle," Rachel Chavez said.
The Santa Ana Unified School District issued a statement Thursday afternoon expressing their concerns for Chavez and his family.
"Our heartfelt prayers are with Christopher Chavez, one of our staff members at Saddleback High School, who was seriously injured as a result of a hit and run accident," the statement read in part.
Anyone with information about the crash was asked to call the Santa Ana Police Department.