This is an archived article and the information in the article may be outdated. Please look at the time stamp on the story to see when it was last updated.
A woman said she was stabbed Tuesday by her ex-boyfriend who came to her hospital room while she was a patient at St. Mary Medical Center in Long Beach.
Police responded to a stabbing call at the hospital around 2:50 a.m., said Long Beach Police spokesperson Marlene Arrona. A suspect was arrested after investigators determined the attacker was visiting the patient's room when a domestic dispute escalated into a stabbing incident, she said.
Traci Mattox says she drowsy after receiving treatment for stomach ulcers when her ex-boyfriend, 30-year-old Lorenzo Moss — who she had broken up with during his previous hospital visit — returned with a knife.
"Earlier that day he had came to the hospital and I told him, 'I think it would be best if we just separate,' and he didn't give me any argument and he left the hospital," Mattox told KTLA. "I woke up again that morning at 2:40 and he was there. I said, 'You know what, like I told you earlier. I don't even know why you're here — it's after visiting hours.'"
That's when the situation became violent, Mattox said.
"I saw something shiny sticking out, and I said, 'Do you have a knife?' " she recalled. "When I said that is when he hit me the first time, and he stabbed me in the back of the neck. I started screaming, 'Help! Somebody help me!' "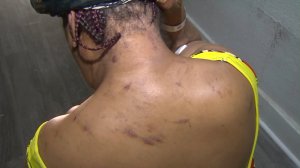 She was able to fight him off but suffered cuts to her head, ears and hands.
No hospital employees responded to her cries for help, Mattox said.
"And you let this guy walk down the hall? And I screamed, 'Get him, he just stabbed me,'" she said.
Although Moss escaped initially, Long Beach police arrested him a short distance from the hospital, Arrona said.
He was later booked into Long Beach City Jail on suspicion of attempted murder and domestic violence, officers said. His bail has been set at $1.04 million.
But ultimately, the hospital's security should have prevented the attack or apprehended Moss sooner, according to Mattox.
"If somebody is in there screaming, got stabbed 13 times — help (them)," she said.
St. Mary Medical Center declined to comment directly on the incident.
"The safety of our patients, visitors and staff is of utmost important," hospital officials said in a statement. "We respectfully uphold the privacy of our patients and are cooperating with local authorities."
Police are continuing to investigate the incident.
In addition to recovering from medical treatment and stab wounds, Mattox said she has been emotionally scarred as well.
"I'm crying every 15 minutes," she said. "Being with somebody who you think loves you and they stab you 13 times."