This is an archived article and the information in the article may be outdated. Please look at the time stamp on the story to see when it was last updated.
Authorities are searching for a person of interest after a woman in her 60s was found stabbed to death in her Mercedes-Benz SUV in the parking garage of a mall in Rolling Hills Estates Thursday, a sheriff's homicide official said.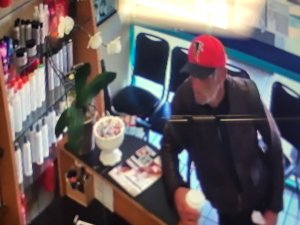 The victim, a white woman in her mid-60s, was found bleeding in her newer model GLK in the lower level of a parking garage around 12:20 p.m. at the Promenade on the Peninsula mall, located on the 500 block of Deep Valley Drive, according to the Los Angeles County Sheriff's Department.
She had been stabbed several times in her upper torso, said sheriff's Lt. Rodney Moore, and L.A. County Fire Department officials told the Daily Breeze her throat was slit.
Mall patrons saw the woman's body and alerted authorities to the grisly discovery, officials said.
She was pronounced dead at the scene. Investigators have not released her identity but said she lived in Palos Verdes.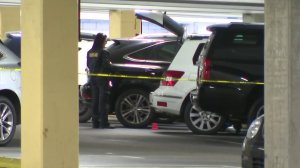 Bloodhounds used to search the Promenade mall and surrounding neighborhood eventually led investigators to a nearby shopping center, where they recovered a surveillance image of a man who they say is a person of interest in the case.
The man is seen wearing an Atlanta Falcons baseball cap with a dark-colored jacket, and officials described him as a white transient.
Detectives have not found any witnesses to the stabbing or any sort of altercation that might have led to the death, Moore said.
The victim leaves behind a husband and two adult children, officials said, adding that they do not believe that her death is the result of a domestic incident.
The mall is in one of the main commercial districts on the Palos Verdes Peninsula, a wealthy suburban area with low crime.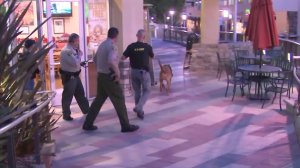 The incident is the first homicide on the Palos Verdes Peninsula in nine years, according to the Daily Breeze.
Melisa McKee, who works at the Promenade, described the incident as "incredibly shocking."
"Everybody's shocked, everybody that's walking around cannot believe what just happened," she told KTLA.
Joan Bohlmann, who is also employed at the Promenade, said she now fears for her own safety.
"It's very disturbing, it's shocking," she said. "I don't think I'm going to park here anymore. It's just too scary."
Anyone with information about the incident can call the sheriff's Homicide Bureau at 323-890-5500.
KTLA's Melissa Pamer contributed to this article.