This is an archived article and the information in the article may be outdated. Please look at the time stamp on the story to see when it was last updated.
A woman found suffering from stab wounds inside a vehicle in Chino died and a man inside a nearby home was also found dead Saturday, authorities said, while there appears to be no outstanding suspects.
Police received a call about the stabbed woman, who was being assisted by fire officials, at about 12:30 p.m., Chino Police Public Information Officer Tamrin Olden said. She was found in a vehicle just outside a home at the corner of Fillmore Street and Cypress Avenue, Olden said.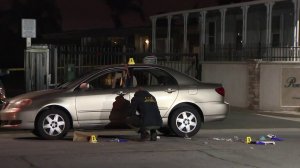 While the woman was transported to a nearby hospital in critical condition, police believed a man suspected of stabbing her was inside a home nearby — in the 12300 block of Cypress, Olden said.
SWAT officers soon arrived, and by about 6:45 p.m., police found a man dead inside the home, officials said in a Facebook post.
However, Chino police have not specifcially identified the man who died as the same person suspected of stabbing the woman.
The woman was later pronounced dead, police said.
Police said there are no outstanding suspects and the suspect and victim were known to each other. No further information has been released.