This is an archived article and the information in the article may be outdated. Please look at the time stamp on the story to see when it was last updated.
A woman was stabbed to death with her own samurai sword by an intruder in Temple City, and a 10-year-old boy witnessed the crime, the Los Angeles County Sheriff's Department said Tuesday.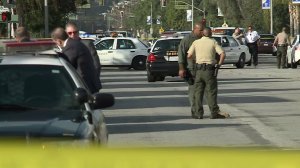 The incident occurred about noon in the 6000 block of Temple City Boulevard.
A man went into the home with a wrench and started beating the woman, described as being in her 40s, Lt. John Corina said.
"Then he picks up a samurai sword in the house and stabs her with it," Corina said.
A man, also in his 40s, was with the victim when the incident occurred. He was also stabbed and was taken to a hospital in unknown condition, the Los Angeles Times reported.
Responding deputies began searching for the suspect, who was still in the neighborhood. The man eventually surrendered to authorities.
Corina said the attacker lived just a few doors down from the victim. Authorities said they might have known each other, but the extent of their relationship was unclear Wednesday night. Corina said the suspect has a long rap sheet and he may have been on drugs.
The motive behind the crime is also unknown.
Neighbors told KTLA the boy who was at the home during the attack is the victim's son. It is unclear if he was injured during the incident.
The victim and the suspect have not been identified.