This is an archived article and the information in the article may be outdated. Please look at the time stamp on the story to see when it was last updated.
A hit-and-run driver was being sought on Sunday after a female pedestrian was struck and dragged by a vehicle that was possibly involved in a street race in South Los Angeles, according to police and witnesses.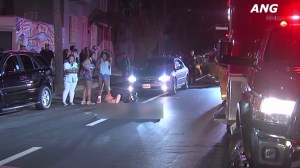 The woman was walking across the street near the intersection of Crenshaw Boulevard and 48th Street in the Hyde Park area of South L.A. shortly before 2 a.m. when she was struck. Witnesses reported that the car was speeding around a corner before the collision occurred.
The victim, identified only as a female in her 20s, suffered a head wound and was transported to a hospital. Her condition was not immediately available, but police said she is expected to survive.
Investigators are looking into the possibility that the vehicle that hit the woman was racing another vehicle at the time.
Neighbors told KTLA on Sunday morning that street races were a regular occurrence in the neighborhood, and often took place in the area on Saturday nights.
A description of the hit-and-run vehicle and driver has not been released. An investigation into the incident was ongoing.