This is an archived article and the information in the article may be outdated. Please look at the time stamp on the story to see when it was last updated.
Four days after a Manhattan Beach teenager died due to injuries sustained while riding atop a Starline Tours bus, a woman announced Wednesday she planned to sue the sightseeing company for negligence and damages in relation to a similar incident.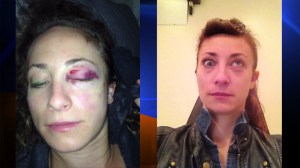 Lauren Guerra was standing on the"open roof" section of a double-decker bus traveling 45 mph when she was struck by a tree branch on Oct. 27, 2013.
Guerra suffered a fractured skull, shattered left eye socket, damaged eye muscle and has had double vision since the incident.
She planned to sue the company after her surgeries were completed, but said during a Wednesday news conference in L.A. that she chose to take immediate action when she learned about the death of 16-year-old Mason Zisette.
"After hearing about what happened to Mason and realizing that this company did nothing to prevent this from happening … this death could completely have been prevented," Guerra said.
Zisette was riding on the "open roof" section of a Starline Tours bus Thursday when it drove under a bridge on the 405 Freeway and he hit his head.
The high school student sustained major injuries, and his parents took him off life support two days later.
Guerra was "infuriated" by Zisette's death, and said that after her experience Starline Tours should have taken steps to make sure passengers didn't endure similar trauma.
"Taking people at high rates of speed, when the passengers don't know exactly what's coming, when they have no idea of what's ahead of them, then hitting them and injuring them in this fashion is not responsible corporate citizenship," Guerra's attorney, Brian Kabateck, said.
Starline Tours could not be reached for comment.
More Video: