This is an archived article and the information in the article may be outdated. Please look at the time stamp on the story to see when it was last updated.
A Colton woman who was being sought after allegedly stabbing her two granddaughters, one of them fatally, as well as her daughter was arrested on Tuesday, police said.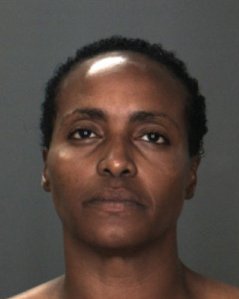 Nicole Darrington-Clark, 43, was taken into custody about 4:15 a.m. by a San Bernardino County sheriff's deputy who had spotted her parked car in the area of Ninth Street and Waterman Avenue behind a closed business, according to a Colton Police Department news release.
The deputy, who had been patrolling the area at the time, called for back-up and contacted the occupant of the vehicle, who was determined to be the suspect in the Colton triple stabbing.
She was then arrested and booked into San Bernardino County jail on suspicion of murder, police said. Her bail has been set at $1 million.
Darrington-Clark is accused of stabbing her three relatives about 9:10 a.m. Monday in an apartment complex along the 1400 block of East Santo Antonio Drive.
The children's mother, Glorious, managed to flee the attack. She went to the unit of another neighbor, Tim Hill, who lives downstairs from the apartment.
"At that time, Glory was hysterical and she just said, 'Hey, can you go get my babies? Go get my babies,'" Hill told KTLA Tuesday. "She thought she went back upstairs to finish off the kids."
Hill immediately went upstairs, where he said he found the toddler face down on a sofa with multiple stab wounds to her back.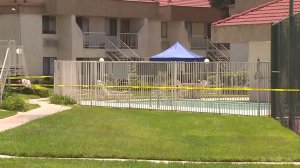 He then called out to the older child, whom he identified as 5-year-old Arleya. The little girl had also been stabbed several times.
"I searched the apartment, I went into the closet and she was in a corner of the closet shaking, petrified," Hill said. He brought the child downstairs, where he was met by paramedics and police.
The 18-month-old, identified only as Damani, died in the attack; the two surviving victims were last reported to be in stable condition and remained hospitalized as of Tuesday morning, police said.
Darrington-Clark fled the scene of the stabbing in a Hyundai Sonata. Police released a photo of a woman, as well as description of the vehicle and a license plate amid an intense search for the suspect.
She eluded capture for nearly a day before she was apprehended the following morning.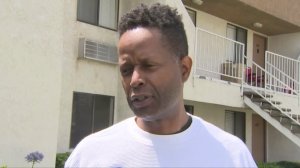 Darrington-Clark has a violent past, according to court records.
She pleaded guilty to two counts of attempted murder in connection with stabbing her son and pushing her daughter out of a moving vehicle in 2005, but the court ruled her insane, the San Gabriel Valley Tribune reported in 2007.
At the time, she was expected to remain in a mental institution. However, Darrington-Clark was released in 2010, according to Colton police.
Darrington-Clark had been sent to Patton State Hospital in San Bernardino, her defense attorney, Robert Sheahen, said Tuesday.
It was not immediately clear why she was released. A spokesman for the California Department of State Hospitals said he could not comment on the case due to privacy laws.
A motive for Monday's fatal stabbing was not immediately known; the incident remains under investigation.
KTLA's Melissa Pamer contributed to this article.