This is an archived article and the information in the article may be outdated. Please look at the time stamp on the story to see when it was last updated.
A 33-year-old woman and three children, a girl and two boys, died after a head-on crash in Victorville Friday night, authorities said.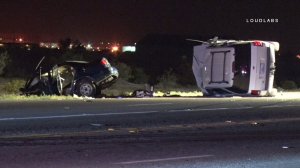 At approximately 8:11 p.m., Mercedez Montee Breda was driving a 1999 Toyota Corolla westbound on Airport Expressway near Phantom West when she sideswiped a Honda Accord, crossed into eastbound lanes and collided head-on with the Ford Explorer, according to a news release from the Victorville Police Department.
Breda, of Adelanto, was pronounced dead at the scene, as were two passengers in her vehicle.
One of the children was an 11-year-old, while the other was a 2-year-old boy.
A third passenger, a 6-year-old boy, was rushed to a local hospital where he died shortly before 9 p.m., according the coroner's office.
A 9-year-old girl in the Corolla suffered major injuries and was airlifted to Loma Linda University Medical Center in critical condition, the release stated.
The children's names have not yet been released. It was not immediately known if any of them were related to the woman or each other.
The driver of the Ford Explorer, 19-year-old Brandom Madrid-Quintero,was taken to a hospital for complaint of pain as well as pre-existing conditions unrelated to the collision, police said.
The coroner's office provided different ages for the children killed in the crash on news release on its website, giving the range between 3 and 12 years old.
The cause of the crash remained under investigation, and no other details were immediately available.