This is an archived article and the information in the article may be outdated. Please look at the time stamp on the story to see when it was last updated.
A former Bank of America employee who conspired with her ex-boyfriend to rob an East Los Angeles branch where she worked as an assistant manager was sentenced to 9 years in federal prison on Wednesday.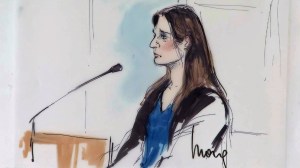 Aurora Barrera was also sentenced to 5 years of supervised release and ordered to pay restitution of $557,000 jointly with her co-defendants in the bank robbery case.
Barrera and her boyfriend at the time of the robbery, Reyes "Ray" Vega, were found guilty in March of plotting the heist, in which Barrera wore a fake bomb to simulate a kidnapping and helped steal more than half-a-million dollars from the bank on Sept. 5, 2012, the U.S. Attorney's Office stated in a July news release.
During the robbery, Barrera convinced a co-worker that she had been kidnapped from her home that morning by two men who taped what appeared to be an explosive device to her body. The device would later turn out to be a hoax.
She told the co-worker they had to open the vault and place money outside the bank or the kidnappers would harm them.
Barrera and the co-worker put $565,800 into bags and placed them outside where Vega's friend, Richard Menchaca, picked up the money and drove away, according to the U.S. Attorney's Office.
Menchaca met up with another accomplice, Bryan Perez, and they moved the money to safe location, the Attorney's Office stated.
Menchaca and Perez received about $150,000 of the stolen money, most of which they spent, according to the Attorney's Office. The rest of the money — about $400,000 — had not been recovered, the July news release stated.
Menchaca and Perez both pleaded guilty and were awaiting sentencing.
Barrera and Vega were convicted of conspiracy to commit bank robbery and bank robbery following a one-week trial.
Reyes was sentenced to 14 years in federal prison, according to the news release.