This is an archived article and the information in the article may be outdated. Please look at the time stamp on the story to see when it was last updated.
A woman who stole a car with two young children inside in San Diego was arrested as she attempted to flee across the border to Mexico on Monday, police said.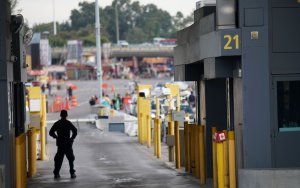 The incident began as father was visiting a business in the strip mall at 220 Euclid Ave, in the Lincoln Park neighborhood, around 12:15 p.m., the San Diego Police Department said in a news release.
The man left his Hyundai running with air conditioner on — and left his 3-year-old son and 8-year-old daughter inside.
While he was gone, a bystander saw a woman get into the car and drive away with both children still inside, officers said.
The father immediately called police, and a few minutes later, his daughter placed a 911 call from the car and told the dispatchers she and her brother were being kidnapped.
Officers at the scene relayed the information to Chula Vista police and the U.S. Border Patrol.
The stolen Hyundai was located by Border Patrol about 30 minutes later as the woman was allegedly trying to cross the border with the boy and girl still inside.
Police responded and arrested the driver. The two children were rescued uninjured, officials said.
The woman involved has not been identified. Police have only described her as "a light-skinned black female," while the San Diego Union Tribune reported that she is 26.