This is an archived article and the information in the article may be outdated. Please look at the time stamp on the story to see when it was last updated.
A 26-year-old Tarzana woman who disappeared in the San Fernando Valley two months ago was identified as the victim found dead in the Santa Clarita area earlier this month, the Los Angeles County coroner's office confirmed Wednesday.
Maricela Garcia was last seen on the evening of Jan. 12 at a Goodwill store on Sherman Way in Reseda. She was browsing the store with her younger sister and friends when she went outside to smoke a cigarette, according to Sarah Garcia, her sister.
She wasn't heard from after that, the sister told KTLA in an interview the day after Maricela Garcia went missing.
Sarah Garcia tried calling her sister's phone, but it was dead, she said. Maricela had left her purse and cigarettes in her car, but her cellphone, ID and keys were missing.
There were no signs of a struggle at the scene, Los Angeles Police Department Lt. Kirk Kelley said soon after the woman went missing.
"There is too much evil in the world," the girls' mother, whose name is also Maricela Garcia, said on Wednesday. "The way that she disappeared, it was very strange."
Garcia's body was discovered near Golden Valley High School in Santa Clarita on the afternoon of March 7, about 20 miles away from the Goodwill where she was last seen. Coroner's Lt. Kelly Yagerlener confirmed the identity of the body to KTLA on Wednesday, and LAPD later announced the remains were Garcia's.
"I couldn't believe it because I was praying that she would come back home safe," her mother recalled. "It's not even her body, I can't go and hold my daughter."
Coroner's officials told KTLA the body was badly decomposed and identified through fingerprints. A cause of death has not yet been determined, according to the Los Angeles County Sheriff's Department, which investigated the discovery of the remains.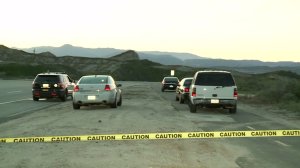 Although police originally said they did not believe foul play was involved in Maricela's disappearance, detectives on Wednesday said they were still working to determine whether her death involved homicide but that it does appear suspicious.
Her mother had a stronger opinion: "Of course that they did something to her."
Despite the trauma of the situation, the elder Maricela said she was thankful to finally have closure.
"It's better for me to know, because if you don't know it's even worse," she said through tears. "And she's in peace now. Nobody's going to hurt her again."
The Santa Clarita Valley Signal was first to report the victim's identity. Garcia was found dead at the bottom of an embankment off Golden Valley Road, which is southwest of the school, a Santa Clarita Valley Sheriff's Station official told the newspaper.
The remains were found shortly after noon by an off-duty L.A. city firefighter who was walking his dog, the Sheriff's Department said at the time. Investigators believed the skeletal remains to be those of a woman; they were discovered in some brush and appeared to have been there for several weeks, according to sheriff's officials.
"It's obvious that the body has been there for some time now," sheriff's Sgt. Troy Ewing told KTLA at the time.