This is an archived article and the information in the article may be outdated. Please look at the time stamp on the story to see when it was last updated.
A 62-year-old San Francisco woman who was released on Wednesday after pleading no contest to a stowaway charge was arrested again on Thursday when she returned to LAX on an apparent "scouting mission," according to officials.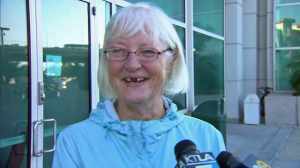 Marilyn Jean Hartman first arrived in Los Angeles aboard a Southwest Airlines flight on Monday. She did not have a ticket for the flight and had bypassed security at San Jose airport to gain access to the plane.
She was discovered during a head count by airline employees and then arrested by airport police at LAX.
Hartman later pleaded no contest to stowaway charges after being accused of bypassing security, boarding the Southwest Airlines flight in San Jose without a ticket and then arriving at LAX.
She was sentenced to 24 months of summary probation and ordered to spend three days in jail, for which she was given credit for time already served.
She was also told not to return to LAX unless she had an airline ticket, according to the Los Angeles City Attorney's Office.
Upon her release Wednesday Hartman stated the incident was "stupid and it is something I don't want to repeat." She said multiple times she would not repeat the crime.
But Airport Police Chief Patrick Gannon said he believed she would return to LAX.
"When we knew she was goign to be released from custody, we were prepared," he said in a news release. "We worked closely with the Transportation Security Administration and other airport partners to distribute fliers with her picture on it.
"She was seen wandering through several terminals today, in what appeared to be a counting mission," Gannon said.
She had boarded a FlyAway bus from Union Station, arriving at LAX about 10:20 a.m. and entering Terminal 2.
She was "scouting out" terminals for an hour before she was arrested, Gannon's statement read. She had not tried to buy a ticket and did not have one on her.
She was arrested at 11:15 a.m. on suspicion of violating the terms of her probation.