This is an archived article and the information in the article may be outdated. Please look at the time stamp on the story to see when it was last updated.
An out-of-work single mom was being called a hero after helping to save the life of a man she never met.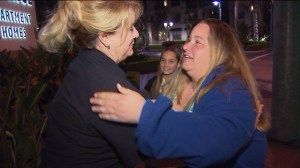 Christina Schulz was on her way home from a job interview two weeks ago in Irvine when she came across a young man lying face down on the sidewalk.
The 32-year-old, who lives at the Village of Hope, said no one else stopped to render aid so she jumped in to help.
Schulz immediately called 911 and reached operator Nancy Horn. For roughly five minutes the two women worked together to get the man breathing again.
Paramedics and police arrived shortly afterward and took the man to a hospital. He was expected to recover.
Kimberly Cheng contributed to this story.