This is an archived article and the information in the article may be outdated. Please look at the time stamp on the story to see when it was last updated.
A Sylmar woman had a blood-alcohol level nearly four times above the legal limit Friday when she crashed a car through the front of a crowded Newhall pizzeria, injuring a senior citizen dining inside, officials said.
The crash took place about 12:30 p.m. at Ameci Pizza & Pasta along Lyons Avenue, just west of Wiley Canyon Road, the Los Angeles County Sheriff's Department said in a written statement.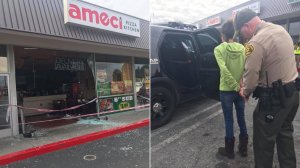 The woman lost control of the vehicle, which plowed through the plate glass windows in front of the business, officials said.
"One restaurant patron, a 69-year-old Stevenson Ranch man, was transported to a local hospital with moderate injuries," according to the statement.
Initial tests indicated the driver had a blood-alcohol level nearly four times the legal limit of .08 percent, sheriff's officials said.
The 40-year-old woman, whose name was not immediately available, was booked on suspicion of felony drunken driving.
General Manager Joseph Maier said he he saw the impact out of the corner of his eye.
"What really got my attention was the sound. It kind of sounded like a bomb went off," he said.
The business was crowded with customers when the car plowed through the front windows, according to Maier.
"It's packed, rush-hour," he said. "Somebody drives all the way through the window, into the wall, and hit a customer, unfortunately. It was pretty scary."