This is an archived article and the information in the article may be outdated. Please look at the time stamp on the story to see when it was last updated.
HACIENDA HEIGHTS, Calif. (KTLA) — A woman's body was found in the garage of a home in Hacienda Heights Thursday.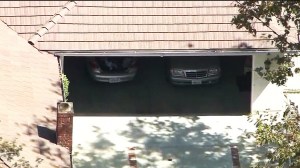 Sheriff's deputies discovered the body after responding to a possible kidnapping in progress in the 15000 block of Las Tunas Drive around 9:45 a.m.
Aerial video from Sky 5 showed the trunk of a car that was parked in the garage had been opened, however authorities only said that the body was found inside the garage.
The victim was identified only as a 66-year-old woman.
Her 44-year-old son was detained on a possible probation violation.  He was not named as a suspect in his mother's slaying, according to authorities.,
"He's a family member. He was at the location at the time of the call. We don't know what his role in this is," Lt. Mike Rosson of the Los Angeles County Sheriff's Homicide Bureau said.
The victim's identity was not immediately released, but neighbors said the woman who lived at the home was a commercial real estate agent.