This is an archived article and the information in the article may be outdated. Please look at the time stamp on the story to see when it was last updated.
A woman jumped from a car after her face and chest were slashed Monday afternoon in the East Los Angeles area, authorities said.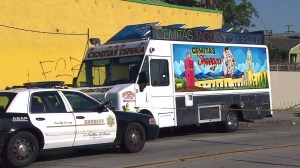 Deputies responded about 1:40 p.m. to the intersection of East Cesar E. Chavez Avenue and North Indiana Street (map), where the woman was found, according to the Los Angeles County Sheriff's Department.
"She was on the floor. She had blood everywhere," said witness Miriam Mendoza. "When they turned her over, to get in the ambulance, that's when she started screaming in pain."
The unidentified woman, a Los Angeles resident in her 20s, underwent surgery after being transported to Los Angeles County-USC Medical Center, sheriff's Sgt. Joe Gonzalez said. Her injuries were not life-threatening, he said.
Initial reports had indicated the woman had been pushed from the vehicle after her throat was slashed.
She told authorities she voluntarily exited the vehicle, in which she was a backseat passenger, because she feared the other occupants intended to kill her, according to sheriff's Lt. Dale Gulley. He said woman was under the influence at the time of the incident.
She refused to cooperate when detectives interviewed her, officials said.
The car was described as a light-colored four-door sedan.
There were possibly two other occupants in the vehicle, witnesses told investigators. No description of them was available.
Sheriff's officials were interviewing witnesses at the scene and examining surveillance video from a nearby laundromat.
Two people were released after being briefly detained in the case. An investigation is ongoing.