This is an archived article and the information in the article may be outdated. Please look at the time stamp on the story to see when it was last updated.
Detectives on Thursday were trying to locate more possible victims of two women who allegedly posed as housekeepers in order to steal cash, jewelry and other items from several homes in Orange County.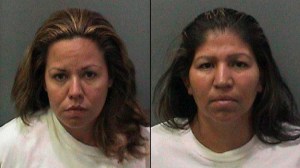 During the past year, investigators believe Sandra Elizabeth Rojas, 36, and Marie Alejandra Rojas, 38, acted as a cleaning crew in order to commit burglaries without having to force their way into homes, the Orange County Sheriff's Department stated in a news release.
They allegedly would follow legitimate cleaning crews around and wait for them to leave a home. Then, they would enter the home themselves and take all the jewelry and cash they could find, according to authorities.
The women, who live in Riverside and are related by marriage, were arrested on Monday, according to the Sheriff's Department.
Following their arrest, investigators found additional evidence at a residence in Riverside that allegedly tied the pair to more burglaries in the south Orange County area, according to the news release.
Detectives suspect Sandra and Marie Rojas may be responsible for other unsolved burglaries in the area as well, the Sheriff's Department stated.
Authorities planned to display some of the recovered property in hopes of returning it to the rightful owners, but have not announced a date, according to the news release.
Anyone with more information, or who thinks they may have been a victim was asked to call the Sheriff's Department at 949-425-1940.
Anonymous tips can be left at Orange County Crime Stoppers at 855-847-6227 (855-TIP-OCCS) or at occrimestoppers.org.