This is an archived article and the information in the article may be outdated. Please look at the time stamp on the story to see when it was last updated.
Firefighters on Saturday reached a 5 percent containment on the Woolsey Fire, but residents were urged to continue heeding evacuation orders ahead of another significant wind event heading to the area Sunday.
Two bodies were discovered "severely burned" in a vehicle along a residential driveway in Malibu amid the destruction, authorities said.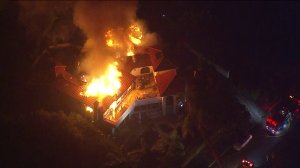 The L.A County Sheriff's Department said the deaths remained under investigation and did not specify the cause. The remains were found Friday afternoon in the 33000 block of Mulholland Highway.
Related: List of Evacuation Orders and Road Closures in L.A., Ventura Counties on Saturday
In Ventura County, officials reported two incidents of looting that occurred on Friday. One of two arrests made involved a vehicle pursuit, Sgt. Eric Buschow said.
The Woolsey Fire erupted east of Simi Valley on Thursday and moved toward Los Angeles County amid powerful winds. By Saturday morning, it had burned more than 83,300 acres, or 130 square miles, according to Cal Fire and Los Angeles County Fire Department officials. That's more than double the estimated acreage from the night before.
Nearly 900 personnel and 145 engines were battling the fire along the border of Ventura and Los Angeles counties Saturday, and are expected to remain overnight fighting spot fires.
A large swath of of southeast Ventura County were still under evacuation orders, as well as Westlake Village, Hidden Hills, Calabasas and Malibu and Agoura in L.A. County. At least 177 structures were destroyed, and 57,000 more remained threatened.
The owners of Malibu Phoenix Retreat, an event venue, described the devastation on the property their family has owned for 60 years.
Jenna Pierson said the business was just a month away from a grand opening after some renovations. But she's not focused on the loss.
"Hopefully as a community we can come together," Pierson told KTLA. "It's a beautiful place to live. We've got a great community here. Everybody loves to help each other."
Calmer winds were in the forecast Saturday as the blaze continued heading toward the ocean, allowing firefighters to attempt to build perimeters around the blaze.
"Our firefighters have been facing some extreme, tough fire conditions that they said they've never seen in their life," L.A. County Fire Chief Daryl Osby said at a news conference Saturday.
"This is just a lull, we're going to take advantage of that," he said, adding that firefighters must also prepare for the return of gusty Santa Ana winds.
The National Weather Service expected Santa Ana winds to come back Sunday morning through Tuesday.
"We know Mother Nature is going to turn her fan back on and the winds are going to start blowing," Ventura County Fire Chief Mark Lorenzen said of the winds. "The need for evacuations is still present."
Osby also said that while area fire departments were assisting in the blaze, resources remained thin due to another wildfire burning in Northern California.
He added that requests have been made for additional resources, and more will be coming from Arizona and other neighboring states.
Despite relatively better conditions, Cal Fire spokesman Lucas Spelman warned gusts could still blow flames into homes. Spelman advised the public to stay indoors, noting that dust masks could only block larger debris, not particulates.
Meanwhile, the acreage for the Hill Fire, which erupted in Thousand Oaks just miles away from Wednesday night's mass shooting, was estimated to have burned 4,531 acres. It was 25 percent contained as of Saturday morning, Cal Fire said.
"We've had a lot of tragedy in our community," said Linda Parks, a Ventura County supervisor whose district includes Thousand Oaks. "We don't want any more."
A town hall meeting for concerned residents will be held at Taft High School in Woodland Hills Sunday evening, State Senator Henry Stern announced during a news conference Saturday. The meeting will begin at the high school, 5461 Winnetka Ave., at 5 p.m.