This is an archived article and the information in the article may be outdated. Please look at the time stamp on the story to see when it was last updated.
A significant Santa Ana event brought strong winds to Los Angeles and Ventura counties Sunday, fanning the flames of the already destructive and deadly Woolsey Fire and prompting expanded evacuation orders in Calabasas, though some areas were being repopulated.
The blaze grew to 85,500 acres – nearly 134 square miles – and containment rose from 10 to 15 percent, Cal Fire said shortly after 8 p.m.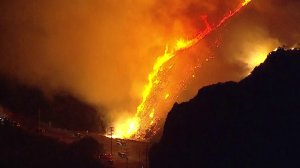 For much of the day, a massive cloud of gray smoke rose above the Santa Monica Mountains from the Pacific Ocean to the 101 Freeway, spreading ash across much of the region.
Most of the flare-ups that took place during Sunday's daytime winds occurred within the existing perimeter of the fire, and firefighters hoped to grow their lines around the blaze overnight Sunday, Los Angeles County Fire Department Chief Daryl Osby said.
"We're going to work all night to continue to increase our containment lanes," Osby said.
At one point in the morning, a flare-up briefly threatened a neighborhood in L.A.'s West Hills. Firefighters protected the homes by air and by ground as flames encroached into a neighborhood filled with dozens of houses, Sky5 video showed before 10 a.m. The hotspot was burning near the area Valley Circle and Roscoe boulevards, on the fire's eastern flank, in an area under a mandatory evacuation order.
Officials from Ventura and L.A. counties once again urged residents to heed evacuation orders, saying firefighters were being impeded by those who'd failed to leave.
Some first responders said they themselves had been displaced.
"I've been evacuated twice," Chief John Benedict with the L.A. County Sheriff's Department said. "I totally understand the heartache. …We're just concerned for the safety of yourselves and the first responders."
A large portion of southeast Ventura County remained under evacuation orders Sunday; in L.A. County, parts of Malibu, Hidden Hills and other unincorporated areas are also still evacuated. The evacuation order for Calabasas was expanded to the whole city early Sunday evening.
After dark Sunday, some orders were lifted: in parts of Agoura Hills, Newbury Park, Thousand Oaks and Westlake Village.
Fire officials said they had no better estimate than the figure previously given for how many structures had burned: 177. A more accurate – and higher – figure should be available Monday morning, L.A. County Fire Department Chief Daryl Osby said.
"We know we've had significant structure loss and the number will increase," Osby said.
Related: Full list of Ventura County evacuations here; Full list of Los Angeles County evacuations here
Related: Woolsey Fire: All of Calabasas Evacuated, But Some Areas in L.A. and Ventura Counties Repopulated
Winds calmed Saturday, giving a much-needed break to firefighters, some of whom had been working since the blaze started Thursday afternoon on the Santa Susana Field Lab property.
"Obviously that wind change we had yesterday allowed us to really get in there and shore up some lines," Cal Fire Battalion Chief Lucas Spelman told KTLA. "Last night they were really able to hold everything."
As expected, Santa Ana winds picked up again Sunday morning in L.A. County mountains with gusts in the mid-30s. Winds were forecast to reach speeds of up to 40 to 50 mph in coastal and valley areas, and up to 50 to 60 mph in the mountains, according to the National Weather Service.
By late Sunday afternoon, winds were gusting 42 mph in the area of the fire, and relative humidity has dropped to a bone-dry 4 percent, the weather service said.
A red flag warning is in effect in L.A. and Ventura counties through Tuesday.
Authorities noted that today's conditions are not the same as they were 10 or 20 years ago.
"It's evident from the situation we're in a climate change," Osby said.
Eight-thousand federal and state firefighters are on the front lines of the fire, which is burning for a fourth day. The massive inferno has left a trail of devastation and destruction in its wake since it erupted east of Simi Valley Thursday afternoon.
Two deaths in Malibu have been linked to the blaze, officials said Saturday. The charred bodies were found in a vehicle along a residential driveway in the 33000 block of Mulholland Highway.
Three firefighters were injured battling the flames, according to Cal Fire. The extent of their injuries and their conditions was not immediately released.
Of the at least 177 structures that have been lost in both counties, a confirmed 50 homes are in Malibu. Part of the Seminole Springs mobile home park, in an unincorporated area of L.A. County between Agoura Hills and Malibu, appeared to be decimated, with dozens of of units reduced to rubble and ash, Sky5 video showed.
Another 57,000 structures remain threatened.
Most of the damage occurred within the first 24 to 36 hours, Spelman said.
Firefighters appeared to have gained a handle on the Hill Fire, which erupted Thursday afternoon in Ventura County. As of Sunday morning, it was estimated to have scorched 4,500 acres but is 70 percent contained.
Two structures were destroyed in that blaze, but no one was killed or injured in the fire, officials said.
Gov. Jerry Brown on Sunday requested a presidential major disaster declaration to bolster the emergency response to the two Southern California wildfires, as well as the Camp Fire burning in Butte County. Brown is seeking federal government help to assist residents in recovery efforts.
President Trump previously declared an emergency in the state on Friday, paving the way for California to receive federal assistance.
Ventura County Supervisor Linda Parks thanked the president for his declaration of emergency, saying that the assistance already given by the federal government was appreciated.
"We've had a rough three days here in the Thousand Oaks area … We also want to make sure that we do get a declaration of major disaster because we know that will bring us funds to do relief efforts," she said. "We are all very much in need of all the support the federal government can give us. "
Full containment of the Woolsey Fire is expected Nov. 17, according to Cal Fire.
KTLA's Melissa Pamer contributed to this article.