This is an archived article and the information in the article may be outdated. Please look at the time stamp on the story to see when it was last updated.
The nearly 100,000-acre Woolsey Fire has been burning for more than week, claiming three lives and destroying entire homes, but firefighters made considerable progress containing the flames by Saturday morning.
An update issued by Cal Fire just before 6:30 a.m. indicated the wildfire inched up to 84 percent containment from 78 percent the night before. It has remained stagnant at 98,362 acres, or nearly 154 square miles, the same size it's been since Thursday.
With the blaze mostly contained, most evacuated residents are returning home while hundreds are grappling with the loss of their homes and other possessions.
Since the fire broke out, it has killed two people in Malibu, another person near Agoura Hills and destroyed an estimated 1,008 structures along with damaging another 271, according to authorities.
About 2,842 firefighters continue to battle the flames, with light winds are expected Thursday night and relative humidity in lower elevations that can make conditions easier. Across ridges and upper slopes, humidity levels will be less favorable, state fire officials said.
Roughly 65 percent of the burned areas have been assessed, officials said.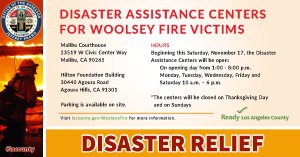 Meanwhile, many communities ravaged by the fire are in the process of recovering, with most evacuation orders lifted in recent days.
From instructions on reporting fire damage to information about flooding risks in burn areas, resources are being offered to fire victims in Los Angeles County through the county's website, which also gives guidance on getting assistance through FEMA and other federal aid.
There is also disaster assistance center opened at the Malibu Courthouse and Hilton Foundation Building in Agoura Hills.
In Ventura County, an assistance center has been opened at the Thousand Oaks Grant R. Brimhall Library, located at 1401 East Janss Road in Thousand Oaks. It's described by county officials as a "one-stop resource for residents affected by the Hill and Woolsey Fires," offering help getting access to rent assistance, debris removal, housing and stress management, among others.
Hours of operation for all three relief centers can be found in this document from Cal Fire.
A map provided by Cal Fire shows which areas are still evacuated.
Law enforcement officials have said some residential areas must remain closed for safety reasons beyond the fire, such as down power lines, while certain roads also remain closed.
#WoolseyFire Numerous agencies and utilities meet frequently to discuss areas to reopen. We maintain certain closures as roadways, traffic signals, and utilities are restored. pic.twitter.com/0GIcS6D8XB

— LA County Sheriffs (@LASDHQ) November 17, 2018
Mandatory evacuations are still in effect in the following areas:
Ventura County
South Coast — East Las Posas Road South of Potrero Road to Hwy 1 and County line open to residents only
Yerba Buena closed from Pacific Coat Highway to Yellow Hill
Yerba Buena between Mipolomol to Ventura-L.A. County line
Los Angeles County
Malibu — portions of Malibu have been repopulated
Malibou Lake — entire community
*No access will be available to neighborhoods south of Mulholland Hwy
Road Closures
Southbound Hwy 1 (Pacific Coast Highway) closed at L.A. County line to Puerco Canyon Road
Puerco Canyon Road at the Malibu City limit
Las Posas Road to L.A. County line is open to residents only, no northbound traffic from PCH
Westlake Boulevard is closed southbound from Potrero Road
On Mulholland at Country Ranch, blocking traffic south of Country Ranch
South Las Virgenes from Mulholland
Sherwood at the Westlake City limit. Blocking access to Triunfo Canyon (residents only)
South Kanan at Malibu View Drive
Just North of Kanan at Triunfo Canyon, blocking access to Kanan Road
Just North of Kanan at Hidden Highland, blocking access to Kanan Road
West Mulholland from Cornell Road
Everything is closed south of Mulholland Hwy and West of Cornell Road
South Stunt Road from Mulholland
*L.A. County public works has closed Chesebro Road at the bridge between Driver Ave and Balkins due to the bridge being damaged during the fire
Information about animal shelters and other assistance with housing evacuated animals can be found in Cal Fire's incident update.
Correction: A previous version of this story gave an erroneous estimate for the number of structures destroyed. The post has since been updated.