This is an archived article and the information in the article may be outdated. Please look at the time stamp on the story to see when it was last updated.
A construction worker was electrocuted and a second worker hospitalized after coming into contact with exposed electrical wires during a job at Mission Viejo High School.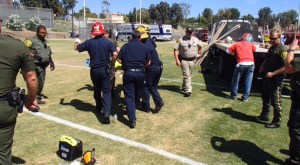 The incident was reported around 3:15 p.m. near the football practice field located on Chrisanta Drive, said Chris Concepion with the Orange County Fire Authority.
The men, both in their 20s, were erecting a scaffold when they came into contact with the electrical wire, Concepion said.
One of the men was electrocuted and died at the scene. When the second man realized what was happening he tried to perform CPR on his co-worker, Steve Concialdi with OCFA said.
But when the worker stood up he also struck the power lines, Concialdi said.
The good Samaritan received a serious electrical shock and was transported to the hospital in critical condition, Concialdi said.
His condition was later upgraded to serious.
CAL OSHA was at the scene investigating.
No further information about the victims was released.