This is an archived article and the information in the article may be outdated. Please look at the time stamp on the story to see when it was last updated.
A World War II veteran was reunited Saturday with his "best friend" — a teacup Chihuahua named Lola — after making the devastating discovery she had been taken from the front yard of his Downey home.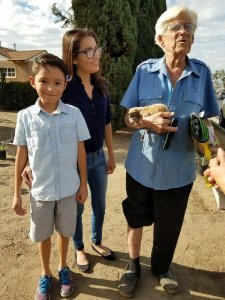 Lola, 12, had been missing since last Wednesday, leaving owner 93-year-old Roger LeClair extremely concerned as she had recently been put on medication.
Luckily, she had been in the care of Chino resident Cynthia Godfrey, who said she was at her son's old school in Downey last week and found the chihuahua at a nearby dog park.
Godfrey said she had been searching for Lola's owner when one of her friends notified her of the news coverage of her absence.
LeClair previously told KTLA a child reported he had seen a woman in a red car pull up to the home and take the dog while walking home from school. The woman told the child she was taking the dog to the veterinarian and left, according to LeClair.
The only way he kept positive while she was away was looking at Lola's photo, he said.
"For the last week and a half, day and night, I go to bed thinking about her, I wake up a time or two at night thinking about her. I guess you call it grieving," LeClair said.
KTLA's Kacey Montoya contributed to this article.