This is an archived article and the information in the article may be outdated. Please look at the time stamp on the story to see when it was last updated.
A Santa Ana homeowner said he "had to pull the trigger" after wrestling a gun from one of two intruders who entered his home Friday morning.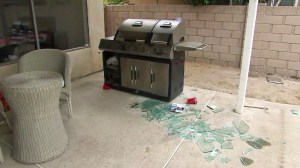 Erickson Dumaual said he was lying in bed at his home in the 2500 block of Manly Avenue (map) at about 4 a.m. when two men entered his room.
One of the intruders went to his bed and demanded valuables, Dumaual said.
"The guy had a gun right at my head," said Dumaual, who told the man he had nothing worth taking.
As the second intruder searched the room, the gunman turned his head to look at his partner.
"At that point I went for the gun," said Dumaul, who used his seven years of Krav Maga training to back the man against a wall and take him down.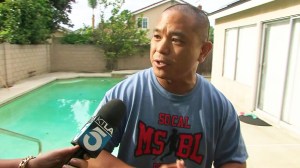 "It was tough because he tried to pin me. It's a battle, 50-50, who's going to die here?" Dumaual asked himself at that point.
"All I want to do is make sure this guy doesn't hurt me, my family or anybody else," said Dumaual, who eventually wrestled the gun away from the intruder.
At some point, the gunman's partner had run off, but Dumaual said the intruder continued to go after him.
"I tried to tell him to, 'stop, stop, stop,' and he comes at me … I had to pull the trigger. I didn't want to kill him," Dumaual said.
Dumaual said he shot the intruder in the leg and then pushed him into the swimming pool when he tried to escape.
The man in the pool was taken into custody, booked, and transported to a hospital with injuries that were not considered to be life-threatening, according to Commander Phil Craft of the Santa Ana Police Department.
The intruder was later identified as 19-year-old documented gang member Bryan Bravo, by Cpl. Anthony Bertagna Police Department.
Authorities were still searching for the second intruder, who was described as a Hispanic man with a shaved head, Craft said.
Dumaual said he was OK after being checked out at a hospital following the incident.
"I'm doing fine, just glass in my feet," Dumaual said.
More video: