This is an archived article and the information in the article may be outdated. Please look at the time stamp on the story to see when it was last updated.
The parents of two young Wrightwood girls who were each recently diagnosed with the same rare and fatal disease are desperately seeking the public's help as they try to get their daughters into a potentially life-saving clinical trial.
Last month, 8-year-old Brynne and 6-year-old Kendall each received the devastating news that they had Niemann-Pick Type C, a medical condition also referred to as "childhood Alzheimer's," according to A GoFundMe page set up by the mother, Julie Moore-LaFever.
"Our world stood still … our worst fears became our reality," Moore-LaFever wrote.
In interview with KTLA, Moore-LaFever teared up Thursday as she said she and her husband Gary's "hand were tied" when they got the diagnoses.
"We didn't really know what was to come of this. We knew that it was a rare, fatal disease," she said. "So we just loved on our kids and we just gave them everything that we could and waited."
The two girls were born "healthy and thriving."
Moore-LaFever described Brynne as "spunky" and "full of life"; she said Kendall, who also has Crohn's disease, is a "gentle and loving" girl who has a "tender and strong spirit."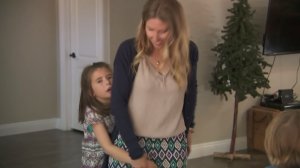 Both were developing normally until Brynne reached the age of 3. That's when the family noticed she was falling behind other children her age, according to the mother.
Teachers told the parents Brynne would catch up the next year. But as the child started losing daily skills, the family decided it was time to get help.
They attempted to get her into Loma Linda University Medical Center as they sought answers; Moore-LaFever said the family at that point was willing to pay for expensive therapies, even if they weren't covered by the family's insurance.
Finally, in December 2016, Brynne was able to see a pediatric neurologist. She was admitted to the hospital for five days and underwent extensive testing, but doctors could still not figure out what was wrong with her.
Then, the neurologist met Kendall and that's when the neurologist knew what was affecting both girls.
"After noticing some similar early symptoms in Kendall he said words I'll never forget, 'this changes everything,'" Moore-LaFever said on the GoFundMe page. "From that moment forward he knew of a specific test that he would do to confirm what he suspected, Niemann Pick Disease Type C.  Within a few weeks results came in, and devastatingly enough, positive for Brynne and even Kendall too."
The parents had never heard of the disease, which is a recessive genetic condition. It mostly affects children and is always fatal, according to FightNPC, a website about disease. The life expectancy usually depends on the onset of the disease.
"The earlier the onset of the disease, the shorter the life expectancy of the child," the website states.
The condition is rare, with estimates of around 500 cases diagnosed worldwide, according to the National Niemann-Pick Disease Foundation.
Moore-LaFever also has two sons, ages 4 and 11, who do not have NPC, she said.
Typically, symptoms start showing up between the ages of 4 and 10. Most children die before reaching 20 years old, but many don't live to the age of 10.
"It's hard to soak in the moments when you don't know how many more you have," Moore-LaFever told KTLA.
It's "extremely rare" for anyone with the disease to reach 40, according to NNPDF.
The condition's effect on the brain can cause a wide range of physical symptoms, such as enlarged spleen or liver, difficulty talking and eating, poor balance, loss of coordination, forgetfulness and seizures, according to Fight NPC.
"Children with Niemann-Pick Type C very sadly experience dementia which gives it the nickname Childhood Alzheimer's," Moore-LaFever wrote.
While there is no cure for the disease, the family hopes to get the girls into a late-stage experimental treatment that they hope may help save their lives, she said. Clinical trials appear to show the treatment working to slow or stabilize the disease's progression.
Without it, the girls might not live into their teenage years, according to the family.
"We have faith, and we know that miracles can happen," Moore-LaFever said. "We have hope with these medicines. … Without treatment, there is no hope."
The treatment would be difficult, she indicated, with each daughter having to go under anesthesia at a hospital every two weeks to receive it.
"The financial and emotional toll of this will be immense," she wrote.
For now, the girls enjoy spending time with their two brothers, who are the oldest and the youngest in the family. They also love to sing and dance, and Brynne can still learn new songs and sing them.
The family doesn't know what will be covered by insurance, and the GoFundMe page is trying to raise $100,000 for the treatment. As of early Thursday afternoon, the fundraiser was nearing the halfway point of its goal.
KTLA's Melissa Pamer contributed to this article.