This is an archived article and the information in the article may be outdated. Please look at the time stamp on the story to see when it was last updated.
WWE legend Chyna, whose real name was Joanie Laurer, was found dead Wednesday afternoon in her Redondo Beach apartment, police said.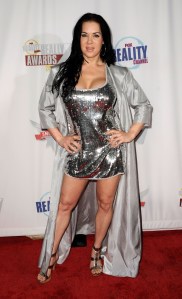 "It is with deep sadness to inform you today that we lost a true icon, a real life superhero. Joanie Laurer aka Chyna, the 9th wonder of the world has passed away. She will live forever in the memories of her millions of fans and all of us that loved her," a post on her Facebook page stated.
Officers were called to Laurer's apartment in the 900 block of Esplanade around 3:35 p.m. after receiving a 911 call from a friend who said the former star wrestler was not breathing, according to Sgt. Shawn Freeman with the Redondo Beach Police Department.
The friend had dropped by to check on Laurer after not hearing from her in several days, Freeman stated in a news release.
There were no indications or signs that her death was a result of foul play, according to the release.
Investigators said it appeared Laurer had died prior to being discovered by her friend.
The exact nature, cause and time of death were still being investigated by the Los Angeles County Coroner.
Laurer's manager Anthony Anzaldo confirmed to KTLA that she was found dead Wednesday afternoon at her home in Redondo Beach.
Chyna was born Joan Marie Laurer in Rochester, New York, according to IMDB.
After graduating from the University of Tampa, Chyna started training in the world of professional wrestling and in 1996 she was named the "Rookie of the Year for the Women's Championship," according to her website.
She wrestled in the Royal Rumble and King of Ring tournaments and became the only undefeated Women's Champion in WWF (World Wrestling Federation) history.
"Thoughts and prayers go out to Chyna's family. She was always cool with me. #Rip9thWonder," wrote wrestler James Storm on Twitter.
Stephanie McMahon of WWE (World Wrestling Entertainment) posted "She was truly a pioneer in our industry, and she will be missed. #RIPChyna."
Following her wrestling career, Chyna went on to appear in adult and feature films as well as a number of reality TV shows, including VH1's Celebrity Rehab with Dr. Drew, according to her website.
Her 2001 autobiography is titled "If They Only Knew" and calls her "part feminist, part superhero, Chyna blazed a trail where no woman had gone before."
https://twitter.com/ChynaJoanLaurer/status/723002666834497536/photo/1