This is an archived article and the information in the article may be outdated. Please look at the time stamp on the story to see when it was last updated.
Two mountaineers are set to finish their historic free climb up the face of Yosemite's Dawn Wall by midday.
That's the expected finish time, confirmed spokeswoman Jess Clayton, although there are no guarantees. Challenges remain for Kevin Jorgeson and Tommy Caldwell.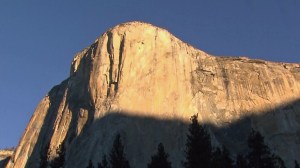 The pair are attempting to become the first free climbers to scale the Dawn Wall in Yosemite National Park, completing their journey to the top of El Capitan on Wednesday.
"The top pitches are a tiny bit easier than the earlier pitches," she said, "however, they could be a bit dirtier and not in as good a condition as the earlier pitches."
Click here to read the full story on LATimes.com.
More Video: