This is an archived article and the information in the article may be outdated. Please look at the time stamp on the story to see when it was last updated.
Pierre Celotto and Aurene Humbert had a definite vision in mind when they booked a summer vacation that included a day in Yosemite Valley.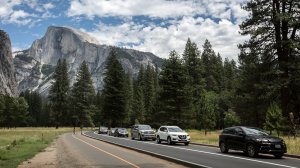 Urged on by breathtaking photographs and nature documentaries, the Parisians said, they looked forward to serene walks along trails where pine trees threw shadows across streams and picturesque meadows teemed with wildlife.
When they arrived at the park on Saturday, Celloto, 31, and Humbert, 29, were greeted by the reality: diesel smoke, honking horns and miles-long processions of buses and cars.
It was close to 10 a.m. when Humbert, her face long and her voice desperate, approached a ranger. "Please, sir, do you know a place to park? You can't imagine how upset we are."
Read the full story on LATimes.com.