This is an archived article and the information in the article may be outdated. Please look at the time stamp on the story to see when it was last updated.
A popular high country campground in Yosemite National Park will be shut down after two squirrels were found to have died from plague, the park has announced.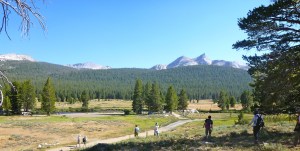 Tuolumne Meadows Campground will be closed from noon Monday to noon Friday, Aug. 17 to 21, the park stated in a brief message on its website.
Two squirrels at the campground were recently found to have died from plague, a disease that can be spread to humans through the bite of an infected flea. The park initially said one squirrel had died, but later updated the statement on its website to refer to two.
Plague has killed millions of people throughout human history, but is treatable with antibiotics.
The 304-site campground will be treated with flea-killing deltamethrin, the site said. The park called it an "extremely precautionary public health measure."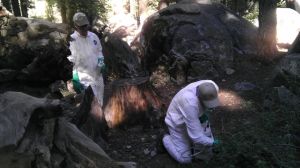 Yosemite officials could not be reached for further information. The park was on Friday dealing with the death of two young campers who died when an oak tree limb fell on their tent in Upper Pines Campground that morning.
In statement released Friday afternoon, the California Department of Public Health said "new evidence of plague activity in animals" prompted the Tuolumne Meadows closure.
Individuals with camping reservations reported that they were contacted by that park and told their reservations during the week had been canceled. This site regularly books up months in advance, within minutes of sites becoming available.
First-come, first-served camping was not available beginning Friday through Aug. 21, the park said.
The campground closure comes a little over a week after a Los Angeles County child was found to be infected with the plague after visiting Yosemite. The unidentified patient was diagnosed Aug. 5 and was being treated at a hospital, the county Department of Public Health said last week.
The child had camped at Crane Flat Campground, on the western edge of the park, about 40 miles west of Tuolumne Meadows via State Route 120. The case was the first reported human diagnosis of plague in California since 2006.
Crane Flat was also closed while deltamethrin was applied to rodent burrows in the area. That campground was set to reopen noon Friday.
The chemical poses little risk to humans and animals, according to the park.
And the risk of human exposure to plague is also low, according to state health officials.
"Although the presence of plague has been confirmed at Crane Flat and Tuolumne Meadows campgrounds, the risk to human health remains low," the state Department of Public Health said in its statement Friday.
The department advised the public to take the following steps to avoid exposure to plague:
Don't feed feed squirrels, chipmunks or other rodents; never touch sick or dead rodents;
avoid walking or setting up camp near rodent burrows;
wear long pants tucked into socks or boot tops to reduce exposure to fleas;
spray insect repellent containing DEET on socks and pant cuffs to reduce exposure; and
keep wild rodents out of homes, trailers, and outbuildings and away from pets.
[protected-iframe id="b30140da320f8071551c8035117ee6fb-41641936-54452678″ info="http://cdphgis.maps.arcgis.com/apps/ImpactSummary/index.html?appid=358951fe9bd546d6954c3f1a1078a4bd" width="100%" height="640px" frameborder="0″ scrolling="no"]