This is an archived article and the information in the article may be outdated. Please look at the time stamp on the story to see when it was last updated.
An 8-year-old boy died after being struck by a trash truck in Newport Beach Wednesday afternoon, police said.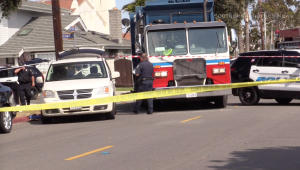 The crash occurred about 1:30 p.m. at East 15th Street and Fullerton Avenue, Newport Beach Police Department Lt. Randy Querry said.
The child was pronounced dead at the scene, according to Querry.
The lieutenant did not know if the truck was a municipal or private vehicle, but video from the scene showed the large vehicle stopped there was labeled CR&R Environmental Services, which is the name of a Stanton-based waste and recycling company.
A child's bike appeared to be lodged underneath the truck.
Investigators were trying to determine whether he was riding the bicycle at the time of the fatal crash, according to Newport Beach police Lt. Jeff Brouwer.
"The driver stopped immediately. The driver obviously very distraught as well. He's cooperating fully with investigators from the beginning," Brouwer said.
The crash occurred in a residential neighborhood about five blocks away from Newport Heights School, where the boy was a third grader.
A neighbor told KTLA students had been released early from the school that day.
"They have an early release for the elementary school kids and the junior high kids on Wednesday. So it was 1:30. So I'm sure he was just … riding his bike home," said Debbie Schulze.
"His family lives down here," she added, pointing down the street.
Multiple people identified the boy as Brock McCann, but his name has not yet been released by the Orange County coroner's office.
The little boy was being mourned at the church he and his family attended, St. Andrew's Presbyterian Church in Newport Beach.
"It's like someone's taken a wrecking ball to your heart," said Pastor Richard Kannwischer.
A makeshift memorial was placed at the crash site later in the day. One football at the memorial simply read, "You will be missed Brock."
The California Highway Patrol is handling the investigation.