This is an archived article and the information in the article may be outdated. Please look at the time stamp on the story to see when it was last updated.
A girl was hit with eight charges that include murder and driving under the influence on Friday, five days after she is accused of stealing a car and crashing in into an SUV in Palmdale, killing at least one person, sheriff's officials said.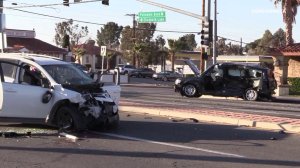 Three of the victims injured in the Feb. 18 crash were still receiving medical treatment Friday evening, the Los Angeles County Sheriff's Department said in a news release.
One woman in the SUV died after being taken to the hospital, and a man, two teenagers and an infant were also injured. As of Friday, one of the teenagers had been released from the hospital but the man, infant and another teen continued to receive treatment, authorities said.
The suspect, who authorities have described only as a female juvenile, was also hospitalized following the incident, but officials did not provide details on her medical condition.
The crash occurred near the intersection of West Palmdale Boulevard and 10th Street West around 2:20 p.m. last Sunday, shortly after the girl began driving a car stolen from the 40000 block of 10th Street West, according the sheriff's officials.
Both vehicles sustained heavy damage, video from the scene showed.
Evidence from the ensuing investigation was presented to L.A. County District Attorney's officials in Sylmar Juvenile Court, the Sheriff's Department said.
The girl was subsequently charged with murder, vehicular manslaughter, evading a peace officer which resulted in injury, carjacking, driving under the influence, misdemeanor hit and run, providing false identification to a peace officer and driving while unlicensed, sheriff's officials said.
She was being held without bail, deputies said. Authorities are not identifying the girl due to her age.
Sheriff's detectives are continuing to investigate the incident, and no further details were released.