This is an archived article and the information in the article may be outdated. Please look at the time stamp on the story to see when it was last updated.
A 7-year-old boy died after being run over by an ice cream truck while riding his bike on a residential street in South Los Angeles on Wednesday night.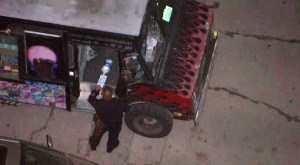 The incident was reported around at 7:15 p.m. in the 200 block of E. 97th Street, according to Officer Norma Eisenman with the Los Angeles Police Department's Media Relations.
The boy was riding alongside the ice cream truck, possibly even holding on to it, when he apparently fell off the bike and was swept under the vehicle's back tires, according to LAPD Sgt. Timothy Colson.
The injured child was rushed to Harbor-UCLA Hospital where he later died in surgery, Colson said.
Aerial video from the scene showed police examining the ice cream truck and the surrounding area for possible evidence.
The truck driver was assaulted by a group of neighbors who also threw bricks at the truck, police at the scene said.
The front windows of the truck appeared to have been smashed, the video showed.
The driver was being questioned by police, but he was not expected to be arrested.
KTLA's Scott Williams and Nidia Becerra Tijerino contributed to this article.