This is an archived article and the information in the article may be outdated. Please look at the time stamp on the story to see when it was last updated.
A relative identified a young couple as the two people who were killed when a wrong-way driver speeding on the 101 Freeway slammed into their vehicle, causing the triple-fatal wreck in Ventura on Thursday.
The head-on collision occurred shortly after midnight on the southbound side of the 101 near the Seaward Avenue exit, according to the Ventura City Fire Department.
Brandon Thompson, 25, and Rachel Cline, 28, were in the vehicle that was struck by the wrong-way driver, Thompson's uncle told KTLA in an email Friday morning.
A GoFundMe account has been set up the victims, he said.
According to the fundraising page, Thompson and Cline had spent the day together in Ventura and were heading home when the crash occurred. Their dog, named "Peeps," was also in the car and died in the wreck.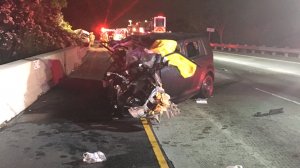 The page is trying to raise $6,000 to pay for funeral costs.
California Highway Patrol officials on Thursday said that the victims had little chance to avoid the collision.
The wrong-way driver had recorded speeds of about 100 mph prior to the crash, according to CHP Sgt. Tom Webster, noting that authorities on the northbound side of the roadway had been tracking the car.
The driver also died in the crash. His or her name has not yet been released.