This is an archived article and the information in the article may be outdated. Please look at the time stamp on the story to see when it was last updated.
Police on Thursday offered a $50,000 reward for information leading to the arrest of a gunman who shot and killed a father-to-be outside a barbershop in the Vermont-Slauson neighborhood of South L.A. last month.
Robert Ellis was part of a group of people standing in front of the shop, located in the 5500 block of South Vermont Avenue, around 2:15 p.m. on March 25 when a gunman opened fire into the crowd, according to the Los Angeles Police Department.
The 27-year-old barber was hit by the gunfire and died, police said.
The assailant — who was armed with a semi-automatic handgun — fled the scene, police said. He has not been located.
"It makes me really sad that we live in a society that people think it's OK to take a life," said Lennell Ellis, the victim's mother, as she choked back tears.
Her son was killed two days after revealing to his mother that he was going to be a father.
"He was so excited," she recalled at a Thursday morning news conference, where the $50,000 reward was announced.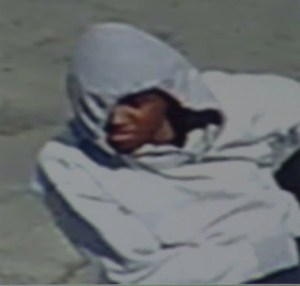 During the briefing, police also released surveillance video of the gunman. He can be seen in the footage firing several shots as frightened bystanders, including a child, run from the gunfire.
The shooting is believed to be gang-related, but Ellis himself was not a gang member, investigators said. They believe the shooter was targeting someone else in the group, according to Detective Chris Barling with LAPD's 77th Division.
"A very typical gang shooting in 77th, where you have a suspect who is a gang member shooting and targeting other neighborhoods who they think are rival gang members," Barling said.
The gunman is described as being around 6 feet tall and in his early 20s, according to police. He was wearing a gray hooded-sweatshirt in the video, and authorities did not have a further description of him.
Anyone with information about the case can leave an anonymous tip by calling Crime Stoppers at 800-222-8477, texting a message to 274637 starting with the letters "LAPD," or going to the website LAPDOnline.org.