This is an archived article and the information in the article may be outdated. Please look at the time stamp on the story to see when it was last updated.
A young girl wrote a letter to her dead father on the sides of a star-shaped balloon, released her message to the sky — and it eventually landed in the right hands.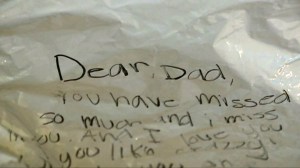 According to KOVR, Jacob Brandt was leaving a restaurant after lunch last week when he found the balloon crumpled up on the ground. He asked the restaurant workers for a garbage can so he could throw it away.
But owner Lisa Swisley took a closer look at the balloon, and immediately realized it wasn't just trash.
It said: "Happy birthday, dad. I will always be your little girl dad. Don't forget that. I miss you."
Swisley found a name written on the balloon, and was able to find the girl on Facebook. She lived about 400 miles away.
Swisley wanted to do something special for the girl, so she began collecting donations on Facebook to send her a care package with jewelry, photo albums and letters.
"She asked in the letter to send her a sign and so…I don't know maybe it came here for a reason," Swisley told KOVR.
This story was originally published by WJW in Cleveland, and was distributed by Tribune Broadcasting.
More video: