This is an archived article and the information in the article may be outdated. Please look at the time stamp on the story to see when it was last updated.
A teen girl and her young niece hid in a bathroom inside their Montclair home Tuesday afternoon when an intruder kicked in their front door and barged into the house, police said.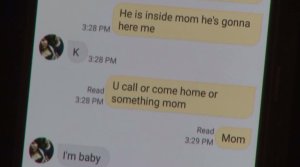 The 14-year-old girl was babysitting her 4 year-old niece about 3:30 p.m. at their home in the 10200 block of Monte Vista Avenue when the suspect knocked on the door, the Montclair Police Department said in a news release.
Savannah Jones told police she looked out the front door peep hole and saw an unknown man standing on her porch.
She immediately sprung into action.
The girl hid her niece, Zoyee, in the bathroom and called her mother.
While she was on the phone with her mom, the girl told police she heard the front door being kicked in so she went to hide with her niece.
"I was very scared not so much for myself, but just Zoyee," Savannah Jones told KTLA.
Savannah said while they were hiding in the bathroom she told Zoyee to keep quiet and she was texting with her mom, telling her she was scared the man would hear her.
Maria Muratalla, Savannah's mom, said it was gut-wrenching not being able to get to the girls.
Muratalla called her neighbor, who called 911, and rushed over to the house.
Police said the suspect ransacked the mother's property and two rooms, but left without finding the girls hiding in the bathroom.
Savannah is now being hailed as a hero.
"She was very smart and brave," Yesenia Barragan, Savannah's sister, said. "She did everything right."
Police and a K-9 officer searched the area but the suspect was not located.
He was described as black, between 20 to 30 years and bald, police said. He was wearing a dark-colored sweatshirt and jeans.
A reward of up to $1,000 is being offered for information leading to the arrest and conviction of the suspect.
Anyone with information about the crime was asked to call the Montclair Police Department at 909-621-4771.