This is an archived article and the information in the article may be outdated. Please look at the time stamp on the story to see when it was last updated.
A 23-year-old mother was sentenced Tuesday to six years in prison for stabbing her toddler son during a domestic dispute involving the boy's father at the family's home in Cudahy.
Michelle Betancourt pleaded no contest to one felony count of assault with a deadly weapon in the 2015 assault, which left her 3-year-old son in critical condition with a stab wound to his upper torso, the Los Angeles County District Attorney's Office announced in a news release.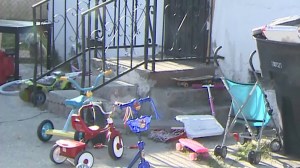 Betancourt also admitted to a special allegation that she personally inflicted great bodily injury during the commission of the crime, the release stated.
At the time of her arrest, a Los Angeles County Sheriff's Department lieutenant said the stabbing was intentional, but Betancourt's attorney argued that there was no intent.
"This is part of a family tragedy. … There's a lot of things that are going on," Bruce Karey said outside court. "There was no intent to harm the child at all."