This is an archived article and the information in the article may be outdated. Please look at the time stamp on the story to see when it was last updated.
A young gray whale seen swimming in Long Beach's Alamitos Bay on Monday morning is the same one that that has appeared recently in various spots along the Southern California coast, a local animal rescuer says.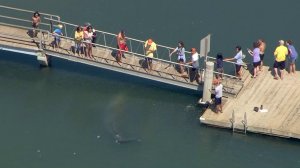 The whale, spotted swimming slowly in shallow waters alongside moored boats and under docks, has likely come up from Baja California without its mother, according to Peter Wallerstein with El Segundo-based nonprofit Marine Animal Rescue.
The whale could be seen circling under kayaks and gondolas, prompting those on the docks to snap pictures, aerial video from Sky5 showed.
It's a calf or juvenile, Wallerstein said. The Long Beach Fire Department said it's 18 feet long.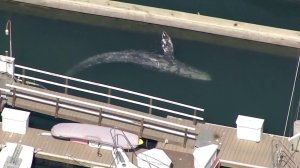 Rescuers aren't intervening and are waiting to see if the whale makes it out of the bay on its own, Wallerstein said.
The marine animal was spotted on Aug. 8 in Dana Point harbor, where it prompted an Orange County Sheriff's Department response. It was then stuck for two days in a salt marsh near Cabrillo Beach in San Pedro, and Los Angeles County lifeguards helped out there, Wallerstein said.
The whale was initially spotted in Long Beach Sunday, he said.
The Fire Department said the whale was swimming Sunday in shallow water from First to 72nd Place.
Denise Lund, a restaurant owner in the Long Beach Marina, said she didn't believe the rumor that a whale was sighted nearby, until she saw it herself.
"Everybody stood up and ran away from their tables, and it was like 'where's everybody going?'" Lund said. "It came out and it was swimming down this way and everybody was following it."
Yesterday, LBFD Marine Safety monitored an 18' grey whale swimming in shallow water from 1st to 72nd Pl. Last seen @ 7:45 PM heading to sea. pic.twitter.com/fs958bvevf

— Long Beach Fire (CA) (@LBFD) August 21, 2017
KTLA's Cindy Von Quednow contributed to this story.